Product
Our soft, beautiful knitted fabrics are available in a variety of sizes, products and patterns to make rooms and spaces comfortable. Custom work is easily accommodated in CAD, sample, and/or model rooms. All products are manufactured in the USA, ensuring quick, cost-effective delivery. All of our products meet industry required Federal, State and local Fire Code standards.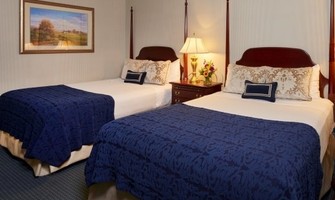 Blanket & Throws
Soft, warm and beautiful to the customer; easy care for staff.
Sizes:
Throw (50" x 70")
Twin (54" x 76")
Double/Full (54" x 86")
Queen (54" x 96")
King (54" x 102")
California King (54" x 102")
Custom sizes per request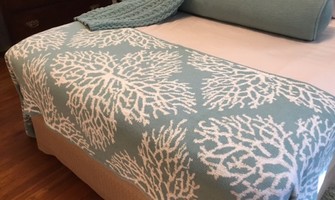 Bed Scarf
The bed scarf can be the finishing touch in a room. We can create a custom design or select a pattern from our pattern and color libraries that suit your needs. Most patterns can be designed to fit all bed sizes.
Standard sizes:
24" x 76"
24" x 86"
24" x 96"
24" x 102"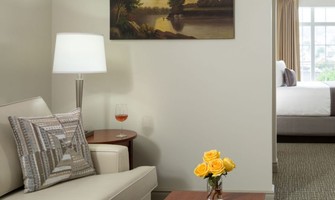 Pillows
Adding a pop of color to any upscale room design, our pillows add the final detail to complete a room. The easiest way to identify a luxury pillow is to examine the construction. Pattern matching and hidden zippers are the perfect example of our attention to detail, reflecting our philosophy to deliver a luxury product that lasts a lifetime. Knife edge style, with concealed zipper. Cording available upon request.
Sizes:
Pillows/Shams (12"x12", 12"x16", 18"x18", 20"x20")
Bolster/Neck roll  - sizes upon request
Custom sizes available upon request
Inserts options: poly-fil , feather, flow-thru poly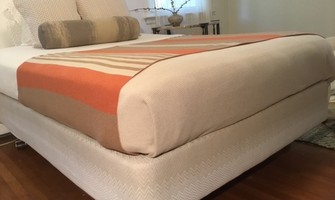 An innovative, contemporary way to cover a box spring, giving another dimension to the all white bed. Easy installation and care, minimizing housekeeping costs. Available in solid colors, patterns, or skirted variations. Flexible fabric covers all box spring sizes, up to 10" deep.
Click Here for installation and care details. Click Here to explore our Wrap Patterns
Custom sizes available.
Let's Touch Base
If you have questions, need information such as swatches, samples, model rooms, reorders or production, please email us using the form below. We will respond ASAP.