Industry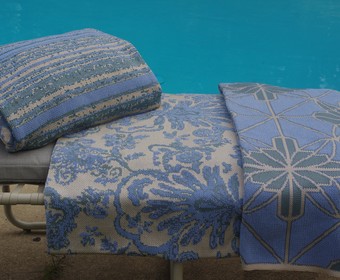 Luxury Living
Relaxing, rejuvenating, tranquil are just a few of the adjectives that come to mind when talking about luxurious living. Our unique Plumoso Collection creates the luxury atmosphere you want, whether it is a day spa or destination resort. Our blankets, pillows, wraps, and saddles are easy care, lightweight, and do not absorb liquids or perspiration. Restful neutral colors, along with beautiful accent colors, are available to create the right environment.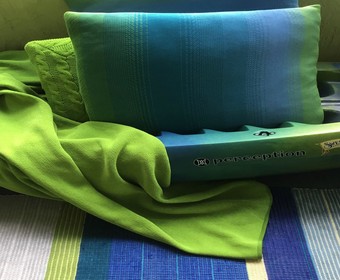 Hospitality/Resort
Beautiful rooms that are easy for your Housekeeping staff to maintain are the ideal combination for an efficient, well-run hotel. Our Plumoso Collection and our unique fibers are used to create soft, beautiful products for guest rooms, spas, lounges, pools and any other areas. Pillows, blankets, bed wraps and skirts, throws and scarves are available in a beautiful variety of patterns, or we can custom design one for you. They are perfect in room, by the pool, in the spa, cocktail lounge or lobby.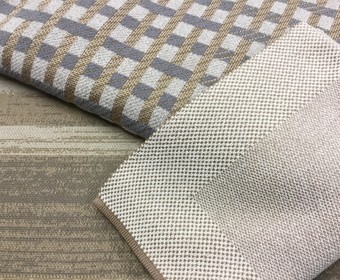 Senior/ Assisted Living
Complying with the strict health-care standards that are required in a Senior and Assisted living facilities is a high priority. Balancing these criteria and creating a beautiful, homey atmosphere can be a challenge. Our Plumoso Collection can be your answer to create beautiful, lightweight, easy-care blankets, pillows, throws and bed wraps/skirts. Our unique fibers create a product which is highly resistant to liquids and perspiration; fast drying, hypoallergenic, non-pilling, lightweight and warm.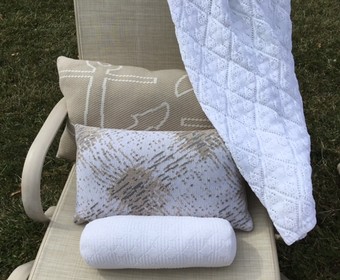 Outdoor Living
Cruise ships and large, outdoor entertainment spaces present the unique situation of providing beautiful surroundings while having to combat the elements of rain, salt, sun, lotions and liquids. Our exceptional polypropylene fiber is designed to create soft, beautiful products, which can also stand up to the constant use and abuse by passengers. Our pillows, blankets, throws and other products are highly resistant to water, liquids and perspiration; fast drying; easy to clean, and are warm and lightweight. Use in room, by the pool, on deckchairs, in the spa or even in the cocktail lounge!
Your Cabin Stewards, Housekeeping and Laundry staff will love working with and caring for these products. They are easy to clean, dry fast, stain resistant, antimicrobial, are hypoallergenic, non-pilling and lightweight. Our products are durable, keeping their beautiful appearance and softness, long after repeated laundering. They deliver a cost-effective long life reducing your maintenance and replacement costs.
Let's Touch Base
If you have questions, need information such as swatches, samples, model rooms, reorders or production, please email us using the form below. We will respond ASAP.